Massachusetts has been another challenging state for background screening companies and CRAs with long turnaround times on criminal background checks and a patchwork of sources that increase overhead and chain of custody concerns. Not anymore. On the heels of Direct-Source DataTM wins in New Jersey, Arizona and Illinois, InformData announces massive improvements in Massachusetts criminal record data turnaround time while maintaining a 99.997% accuracy rate. CRAs using InformData's Direct-Source Data now have what they need to satisfy clients on every Massachusetts search.


Massachusetts sets the stage for long turnaround time and potential for human error
Massachusetts does not offer online access to complete criminal record data, which is one of the main reasons for historically slow background check results and chain of custody concerns in the state. Like other jurisdictions with no online access, in-person, manual research is required to complete a thorough criminal background check in Massachusetts. Results are then compiled and hand-keyed into the database that provides results to a CRA's query.


Direct-Source data lessons from Amazon's billion-dollar investment
In Massachusetts, our research team has faced the usual challenges that come with in-court research. It occurred to our team that the obstacles they faced in Massachusetts (and other states) are a lot like the challenges a big retailer like Amazon has – pulling product from multiple warehouses, making sure the order is manually picked and packed completely and correctly, and ensuring the order gets to the customer by the promised delivery date. Our goal is the same: keep up an efficient process without compromising quality or customer experience. Amazon has spent billions perfecting its technology and processes to make that possible.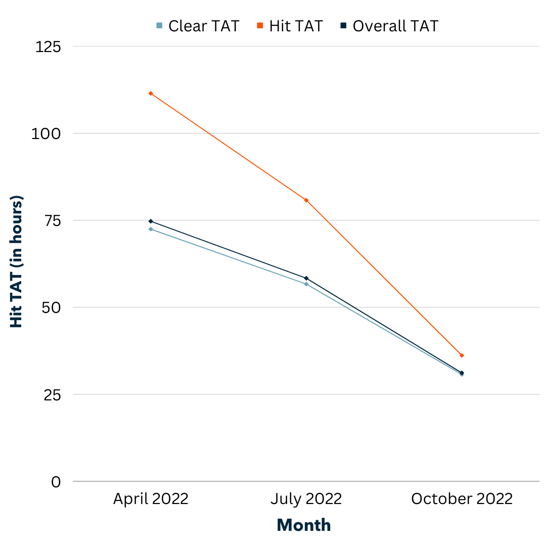 Lucky for us, InformData didn't have to spend billions and instead learned from what Amazon has done. Our Direct-Source Data tech stack and service model is millions in the making and has all the same state-of-the-art queueing, ranking, mapping and tracking methods to continuously optimize access to data and delight our customers. Additionally, our experienced team of researchers has been able to create the most efficient logistics possible to ensure terminal availability challenges do not result in delays for our clients. Our investment has paid off and the results speak for themselves, even in tough states like Massachusetts.


The Direct-Source Data effect in MA
We recently shared information about our Direct-Source Data successes in Arizona, Cook, Illinois and New Jersey. You may notice a pattern in these updates: turnaround time significantly decreases, while accuracy rates remain near-perfect. The news in Massachusetts is no different and just as good.
Ready to hear the numbers? Check out this graph that shows our turnaround time improvements in MA. Since April 2022, we have seen an incredible 64.47% decrease in the average turnaround time for subjects with hits (records) in Massachusetts. We wrapped up October with a hit TAT of 39.59 hours, and overall TAT of 32.27 hours. And you guessed it, quality has not suffered at all for this improvement. It's all gain and no pain. For the past 90 days, our MA accuracy rating is 99.997%. That's the Direct-Source Data effect.
So, how can you start delighting your customers who need MA search results? Work with InformData. We may not be Amazon, but when it comes to the data you need to make informed decisions, our track record of Direct-Source Data success shows we understand how important it is to get accurate information to your clients in a timely manner, and that we are committed to making people-data equitably accessible to all. With InformData in your arsenal, you'll be able to keep turnaround times at bay and stay ahead of the competition.
Is your CRA ready to get closer to the data in Massachusetts? Contact us today.
Keep an eye out in the coming weeks for information on our new offering that provides the most comprehensive criminal record data in Massachusetts by enabling CRAs to search all district courts in any jurisdiction in the state. If you don't want to wait, get in touch with our team today to learn more about how this product can benefit you.