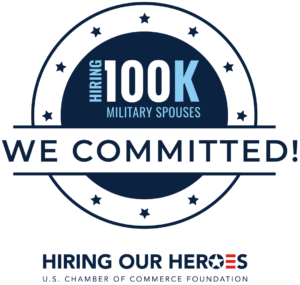 Military spouses matter. Let's talk employment
.
Military spouses are part of the foundation that supports our armed forces. While most people recognize the sacrifice that our military heroes make, military spouses (and their sacrifices) are often forgotten.
This isn't just in the way that the community and the media speak about them, but also in the behaviors of employers. This group experiences significantly higher rates of unemployment and lower wages than their civilian counterparts. And when working military spouses move, we see a 14% decrease in salary, which can add up to over $3,000 in lost annual income.
But here at InformData, we have hired military spouses in a variety of roles, and we are consistently amazed at their competence, their confidence, their work ethic, their intellectual flexibility, and their entrepreneurial spirit.
With this in mind, we have chosen to prioritize the hiring of military spouses for many of our court data research and resume verification roles. These full and part-time entry-level jobs are flexible, most can be performed remotely, and best of all, they're portable: in most cases, they simply pick up and go where you go next.
Want to throw your hat in the ring? Click the link below, include your resume, and a member of the recruiting organization here at InformData will reach out with further information.
The Story Of The Boots
.
The model for success and the importance of giving back shine through as strongly as the reflection in his boots as Director of Operations Bill Wilder shares a vivid lesson that changed his view of teamwork and that forms a cornerstone of company culture at InformData.