Just a few short weeks ago, we highlighted InformData's mission to make direct-source people-data equitably accessible to all in Arizona. We announced our expanded investments in Direct-Source Data® capabilities in the most populous, challenging, and troublesome counties to conduct criminal background checks in the state - Maricopa, Pima, and Pinal.
We are excited to provide some updates about our progress in these jurisdictions. Take a listen to a recent podcast to learn more about the actions we've taken and the impacts of our expanded capacity in those areas.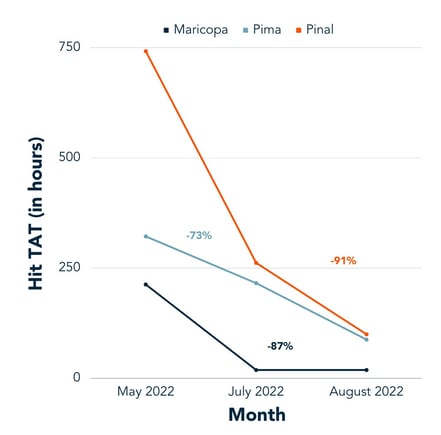 By committing more people, process and technology to these geographies, we are making it easier for you to get closer to the data. The proof is in the numbers!
As you can see, since May, the average turnaround time for subjects with hits (records) in each county has decreased by as much as 91%. The decisive action to commit more resources to these geographies results in improved turnaround times and efficiency for you, all while decreasing your total cost of ownership.
This is news you've been waiting to hear and what you need to delight your customers today.
Interested in learning more? Don't wait for capacity to fill up. We're just a phone call away at 800.203.0582. Or if you just can't wait to get in on the action, contact us today.