The TazWorks Live User Forum is one week away! InformData is proud to be a sponsor for this event and can't wait to see everyone in Salt Lake City, Utah. As a silver sponsor, we will be showcasing our TazWorks integrations, while offering attendees the chance to connect with the team.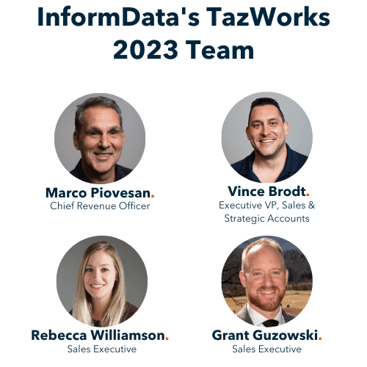 Attendees are invited to visit InformData at the user forum to connect with the team and learn more about what's new this year and what's on the near horizon. Additionally, we will be hosting a demo session on Wednesday, May 17th, from 4:00 – 4:45pm, featuring Vince Brodt. This session will cover InformData's latest innovations, including its TazWorks integrations and more.
In addition to the demo session, InformData will be continuing our popular Apple AirTag raffles at this year's user forum! All you have to do is bring your business cards to the conference and drop one in the fishbowl at our table. There will be winners announced every day!
If you have not yet registered for the TazWorks Live User Forum, there is still time to do so. The conference will be an exciting opportunity for attendees to learn about the latest trends and developments in the industry, network with colleagues, and connect with vendors.
We are looking forward to meeting all the attendees and sharing our insights. As a leading provider of background screening industry, we are dedicated to helping clients achieve their goals by offering the latest technology and best-in-class support.
We are proud to be a silver sponsor of the TazWorks Live User Forum and look forward to seeing everyone in Salt Lake City. Be sure to visit us and attend the demo session to learn more about the latest in TazWorks integrations and how we can benefit your business.