Things are heating up in Arizona this summer, in more ways than one.
We continue to make significant investments to make people-data equitably accessible to all. Direct-source data is the people-data CRAs like yours rely on for competitively priced, fast turnaround times, and high reliability adding high value and delivering data the way you want it for your customers. Hundreds of you told us how important Arizona is to your businesses. We heard you. And we took action.
We're pleased to announce that InformData has ramped up our investments and capacity in the state of Arizona! With that in mind, we have expanded our direct-source data capabilities in three of the most populous counties in Arizona- Maricopa, Pima, and Pinal.
Part of the challenge our industry faces in these populous Arizona counties is simply due to the fact that 80% of the state's population resides there. This creates a tremendous amount of strain on the local courts and clerks which in turn, causes the delays. In order to combat this, we've not only expanded our capacity, but we're hoping to work with the local Arizona legislature as we did in Cook County, Illinois. In the past, we've made great strides working with the local government officials to help find solutions to ease the demand on the court systems. We hope to repeat that in places like Arizona. Stay tuned for more on that!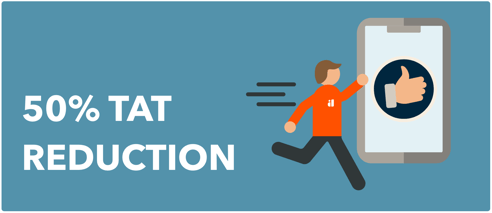 In the meantime, we've already seen evidence of quicker turnaround times (TATs) due to our direct-source efforts. Before we began, turnaround time in these three counties were less than a day for background checks with no records. That continues to be the case. The real strides are on the background check searches with potential records where average turnaround time was well over 600 hours (that wasn't a typo). By ramping up our capacity there, we've already been able to reduce turnaround time by nearly half and we're committed to reducing that time to a week or less in the coming months without sacrificing any of the quality or accuracy you've come to expect.
When you're using direct-source data, and treating your data like a supply chain, it allows you to make it more predictable, reliable and secure. And while predictability and speed are paramount to your business, we know that cost is always a factor. We never sacrifice the end product to save a buck. We aim to minimize expenses while passing this on to you, our customer.
By committing more resources to these geographies, we're making it easier for you to get closer to the data, providing you with reliable results and improving turnaround times and efficiency while decreasing your total cost of ownership. Translation— these are the tools you need to delight your customers, today.
Interested in learning more? Don't wait for capacity to fill up. We're just a phone call away (800.203.0582). Or if you just can't wait to get in on the action, contact us.