There is no better time than now to start expanding your CRA's international footprint. With 17% of the US workforce being foreign born or having lived outside the US, it's imperative you or your data provider have the know-how to conduct in-depth and accurate international background checks. As part of InformData's mission to make direct-source people data equitably accessible to all, we've recently launched two new international criminal search options in the United Kingdom (England and Wales): Standard and Enhanced. Take a peek behind the curtain and learn what these new search options are, why they're important, and how they'll help you delight your end-users.


Criminal record searches in the UK
In the United Kingdom, a criminal record check is performed via a Disclosure and Barring Service (DBS) check or a Disclosure Scotland (DS), dependent on the country. In England and Wales, they are done through the DBS. The DBS check returns information on a person's criminal convictions to help ensure employers are hiring the right people. These checks are especially important for candidates that are applying to work with certain groups, such as children or vulnerable adults.
There are a few different search methods that should be used when it comes time to investigate an individual's criminal history in England and Wales. These check types include Basic, Standard, and Enhanced. The Enhanced option may also include a barred list check dependent on the job role being applied for.
Previously, InformData was only able to offer our clients the Basic search; however, thanks to developments made by our technology team, we now have the ability to offer the Standard and Enhanced options in England and Wales.


Why are there different types?
Candidates, CRAs and their clients cannot pick the level of search they want to run, it's mandated by the UK. The level of check an applicant qualifies for depends on the industry they are applying to work within. It all has to do with the Rehabilitation of Offenders Act (ROA) 1974, which enables some criminal convictions to be ignored after a rehabilitation period. Employers cannot discriminate against an applicant protected by the ROA, so it is important that they are performing the proper level of criminal record check.
The Basic DBS check does not disclose information about convictions that are considered 'protected' under the Rehabilitation of Offenders Act. Anyone over 16 qualifies for the Basic DBS option.
To be eligible for the Standard or Enhanced checks, these requirements must be met:
Standard DBS: The position of the individual being screened must be included in the Rehabilitation of Offenders Act (ROA) 1974 (Exceptions) Order 1975.
Examples: Veterinary Surgeon, Bank Manager, Clerks and Officers of Law Courts, Government Legal Services
Enhanced DBS and Enhanced with Barred List check: The position of the individual being screened must be included in the Rehabilitation of Offenders Act (ROA) 1974 (Exceptions) Order 1975 and the Police Act 1997. The Barred List check is performed for positions working with children or adults in certain circumstances, such as healthcare or personal care.
Examples: Youth Worker, Teacher, Social Worker, Psychologist


Types of DBS checks
The graphic below lays out the specific information that gets returned in each of the search types.
As mentioned above, the search type that can be performed is dependent on the role the candidate is applying for. For example, if someone is applying to be a mechanic, they would only qualify to receive a Basic DBS check as that position is not outlined in the ROA exceptions. An employer cannot run the Standard or Enhanced search on that candidate.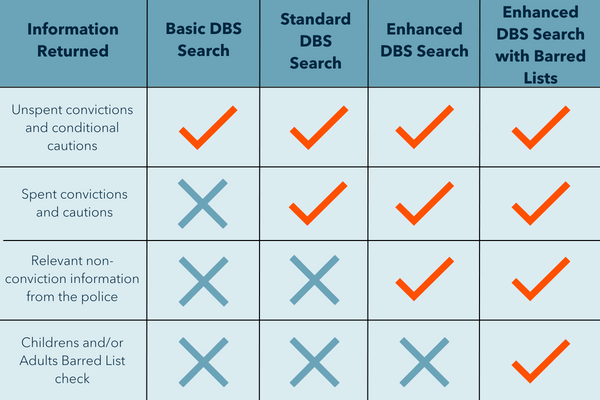 To offer a comprehensive product in the UK, CRAs need to offer each of these search types to cover all industries. This can now be done in England and Wales using InformData's multilevel search services.
If you'd like to get more details about these criminal checks and specifically how InformData can help, contact us today.