InformData makes it its mission to be a proud supporter of veterans organizations and their service members through our charitable donations and our very own Military Spouse Program. This past weekend, Matthew Lowers, president of InformData and co-founder of HeroHomes, was honored to receive a charitable donation of $5,000 from the Robert Irvine Foundation at Hollywood Casino at Charles Town Races, a property of PENN Entertainment.
The Robert Irvine Foundation is a not-for-profit organization that supports service members, veterans, first responders, their families, and those in need through resiliency, health, and wellness programs, in addition to the financial support of top-rated military and first responder organizations.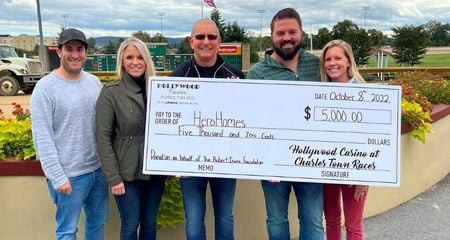 Chef Irvine generously donated the funds before his live cooking show which took place that evening at the casino. Matt was honored to receive the donation from the chef and television star and the funds will directly go to help disabled veterans and their families in the local community.
Matt Lowers, president of InformData, co-founded and serves on the board of HeroHomes which is a not-for-profit foundation established to build homes for those who have fought for the preservation of freedom and democracy for our country. It provides opportunities for disabled veterans to join society with the security and pride of home ownership. The goal of the organization has been to build a home for a veteran every year since its inception all through the generous donations of sponsors, community members and volunteers. Currently, HeroHomes is in the final stages of completing its 5th home and has already acquired the land to begin building its 6th. The organization is in the process of raising the funds to begin building that next home.
"We are honored that Hollywood Casino at Charles Town Races continues to select HeroHomes as one of the local charitable organizations it supports. Also, having the recognition and support of a national philanthropic organization like The Robert Irvine Foundation will go a long way towards raising more awareness for our local charity and for our local veterans in need. 100% of the money donated will directly impact disabled veterans and their families right here in the community." Matthew Lowers, president InformData and co-founder of HeroHomes