The field of nursing requires a high level of education and training, and a nursing diploma is a valuable credential that represents the success of becoming a professional. Unfortunately, there are people who are willing to create and sell fake nursing diplomas. Recently more than 7,600 aspiring nurses cheated the health care system and obtained fraudulent nursing degrees from three South Florida nursing schools, according to federal authorities. This type of fraud can lead to serious consequences for both the individual who holds the fake diploma and the patients they may be caring for which is one reason employers require pre-employment background screens and rely on Consumer Reporting Agencies (CRA) to catch false or misleading information. In this article, we will discuss how to identify fake nursing diplomas.
One of the first things to look for when identifying a fake nursing diploma is the school's accreditation. Accreditation is the process by which a school is evaluated to ensure that it meets certain standards of quality. Legitimate nursing programs are accredited by either the Accreditation Commission for Education in Nursing (ACEN) or the Commission on Collegiate Nursing Education (CCNE). You can verify a school's accreditation status by contacting the accrediting body directly.
Another way to identify a fake nursing diploma is to look at the degree program's requirements. Legitimate nursing programs have specific prerequisites, such as biology and chemistry courses, that must be completed before a student is admitted. If the nursing program's requirements seem vague or non-existent, it may be a fake diploma.
The next thing to look at is the diploma itself. Legitimate nursing diplomas are typically printed on high-quality paper and feature the school's name, seal, and the student's name. There should also be an official signature from the school's registrar or another authorized representative. If the diploma appears to be low-quality, has spelling or grammatical errors, or does not have an official signature, it may be a fake nursing diploma.
It is also important to verify the student's graduation status. Legitimate nursing programs maintain records of their graduates and can verify a student's graduation status. If the nursing diploma was obtained from a school that does not maintain these records, it may be a fake diploma.
Finally, it is important to check the nursing license. Legitimate nursing programs require students to pass the National Council Licensure Examination (NCLEX) to become licensed. If a nursing diploma was obtained without passing the NCLEX, it may be a fake diploma. You can verify a nurse's license status by contacting the state board of nursing where the nurse is licensed.


Sanctions and Exclusions Check, Credential Check, and Abuse Registry Check
Now you've taken steps to verify the diploma is legitimate, but how do you know the applicant is truly qualified for a position in healthcare? Standard employment verification will give you a basic sense of the candidate's background but the data isn't specific to the healthcare profession. A CRA should verify the candidate's credentials against a special-purpose medical database. These medical credential databases allow CRAs to verify three important qualities of a candidate's background: Sanctions and Exclusions Check, Credential Check, and Abuse Registry Check.
A high-quality medical background database product such as InformData's MedEx Complete screening solution will let CRAs check all three of these important areas with a single query and is based on Direct-Source Data®, ensuring the highest level of authenticity. This offering also allows the CRA to provide their clients a one-time check or continuous monitoring. Here are details about what each type of check is used to identify.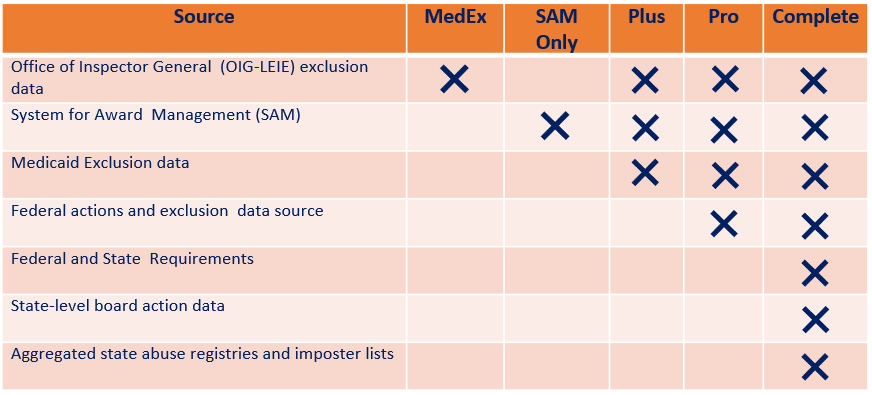 Running a Sanctions and Exclusions Check identifies healthcare providers and organizations that have limitations on their licenses or are excluded from federally funded programs, i.e. fake diploma mills that have been caught in the act. A Credential Check verifies health care provider's ability to practice by a running license, certification, Drug Enforcement Administration (DEA), Pharmacy Technician Certification Board (PTCB), American Board Certification and National Provider Identifier (NPI) check, depending on the tier selected. And for applicants working within vulnerable populations, you can identify individuals with documented abusive behavior against adults or children through a database search of state Departments of Health. While this specific search is not available in all states, it does provide additional insight into candidates seeking to work at childcare and healthcare facilities.
Now, let's say you've verified all employees upon application and hire, but want to offer your clients the ability to ensure their facility remains a safe environment for patients. This is where a continuous monitoring option for the MedEx solution comes into play. CAM, aka Court Activity Monitoring, is the most advanced form of criminal monitoring in the background screening industry. Updates from the court are provided in real-time with a CAM screening product. Hundreds of thousands of records are updated on a daily basis. CAM is the best way to track new criminal activity of a subject from the time the case is filed to when the case is disposed of and the subject sentenced. Customization of a CAM MedEx screen gives you and your clients the controls needed to filter out any information deemed not useful, including: charge categorization, source type, case status and more.
In conclusion, identifying a fake nursing diploma requires CRAs to pay careful attention to education and credentialing history and a willingness to investigate. MedEx screening technology can accelerate the process using pertinent databases from accredited sources. In addition to checking a school's accreditation status, degree program requirements, diploma quality, graduation status, and nursing license status, continuous monitoring technology can identify irregularities in an applicant or employee's background that can help a CRA determine whether a nursing diploma is legitimate or fake.